[Download MP3]
Dr. Brown interviews Jonathan Cahn on his new bestselling book The Harbinger.
Hour 1:
Dr. Brown's Bottom Line: It is not too late for America, but we do hang precariously in the balance. It is a time for massive shaking, when we can not be asleep, and repent and seek the face of God. Same old message, but with a greater urgency than ever!
Hour 2:
Dr. Brown's Bottom Line: There are times and seasons to favor Israel. Yes, we remain a people still scattered in much of the world. Yes, we remain a people, even in the land of Israel and under much pressure, and in the midst of it, God is working. Jewish people are coming to faith in Jesus. It is that time!
Available this week only!!
The Harbinger by Jonathan Cahn
Only $17 with FREE SHIPPING!
Call 1-800-278-9978 2-4 pm EST, or ORDER ONLINE!
Meet Jonathan Cahn!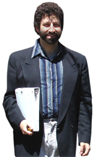 Jonathan Cahn is President of Hope of the World ministries, Senior Pastor and Messianic Rabbi of the the Jerusalem Center/ Beth Israel in Wayne, New Jersey. His teachings are broadcast daily over hundreds of radio stations throughout the United States and the world and on television. He ministers, as did the first Jewish messengers of the Gospel, sharing the message of Messiah to Jew and Gentile, Israel, and the nations. Read more…
To contact the the ministry, write to:
Hope of the World – Box 1111 – Lodi, NJ 07644 or click
www.
hopeoftheworld.org
Click HERE to get the full DVD or CD Teachings behind The Harbinger!